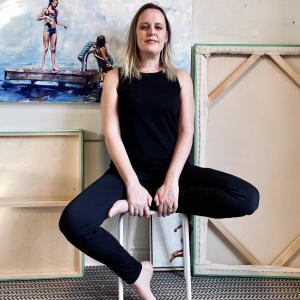 Corynn Kokolakis
Artist member since 2019
Toronto, Ontario
Corynn is a full-time artist and mom of three. Having given up painting for over a decade to raise her family, her reinvigorated practice strives to merge the disparate roles of mother and artist through the centring of child development and the labour of caregiving.
Corynn's vivid renderings record intimate moments of transition and development, capturing children when they are most honest and without reserve. The figurative gesture is celebrated, and a sense of the individual emerges as each child moves autonomously through the world. With an emphasis on the caregiver's point of view, these sensitive portrayals anchor the fleeting firmly in paint, giving weight to emotion and memory. The work is painted allaprima, welcoming the viewer to explore the material processes of oil paint. The result is a contrast that plays between the stillness of the image and the dynamic movements inherent in the physical act of painting.
Corynn earned her BFA in the Drawing and Painting program at OCADU, where she received the Akin Career Launcher Award. Her work has been featured on Breakfast Television, CP24, and She Does the City. She works out of her home studio in Toronto and her work can be found in private collections in the UK, the US, France, Australia, and Canada.
---
Describe your home in 3 words
Controlled. Kid. Chaos.
Best season of the year in Toronto
Pumpkin Spice, of course.
Favourite musical artist / band right now
Brandi Carlile, as I get older it seems I'm returning to my roots. I'm in awe of her talent drive and powerful female perspective.
Coffees per day and from where
3. Fresh ground, french press or pour over, at home or in studio, strong and black please.
Why is art important to you?
Art is the vehicle for connection, in an era of increased digital access to everything, real life physical engagement with and through art is becoming more and more essential.
When did you start making art, and why?
My return to painting after a long hiatus came quickly and fiercely. I have learned over the last few years that painting is not only a cornerstone of my identity it is an essential part of wellbeing.
Select Past Exhibitions
2020
2020
2020
2020
2020
2020
2020
2019
2019
2019
2019
2019
2019
2018
2018
2018
2018
2018
2018
2018
2017
What do you mean, "try"?
Try-before-you-buy with a 3 month rental. 100% of your rental payments go towards the purchase (interest free). Message the artist directly, and start the conversation.
---
Art made (truly) affordable
We make it easy for you to try art with smart payment plans and try-before-you-buy models.
See How It Works
---
You're covered.
Artwork protection is included on all art rentals up to $5K. Our Customer Care team is always here to help.
Contact Us
---
Unlock Trade Access
For industries including interior design, film/TV production, & real estate staging: rent original pieces that fit with your project vision, budget and timeline.
Apply for Trade Access
---
1% from every transaction goes towards SKETCH WORKING ARTS.